Helping Hands of St. Johns County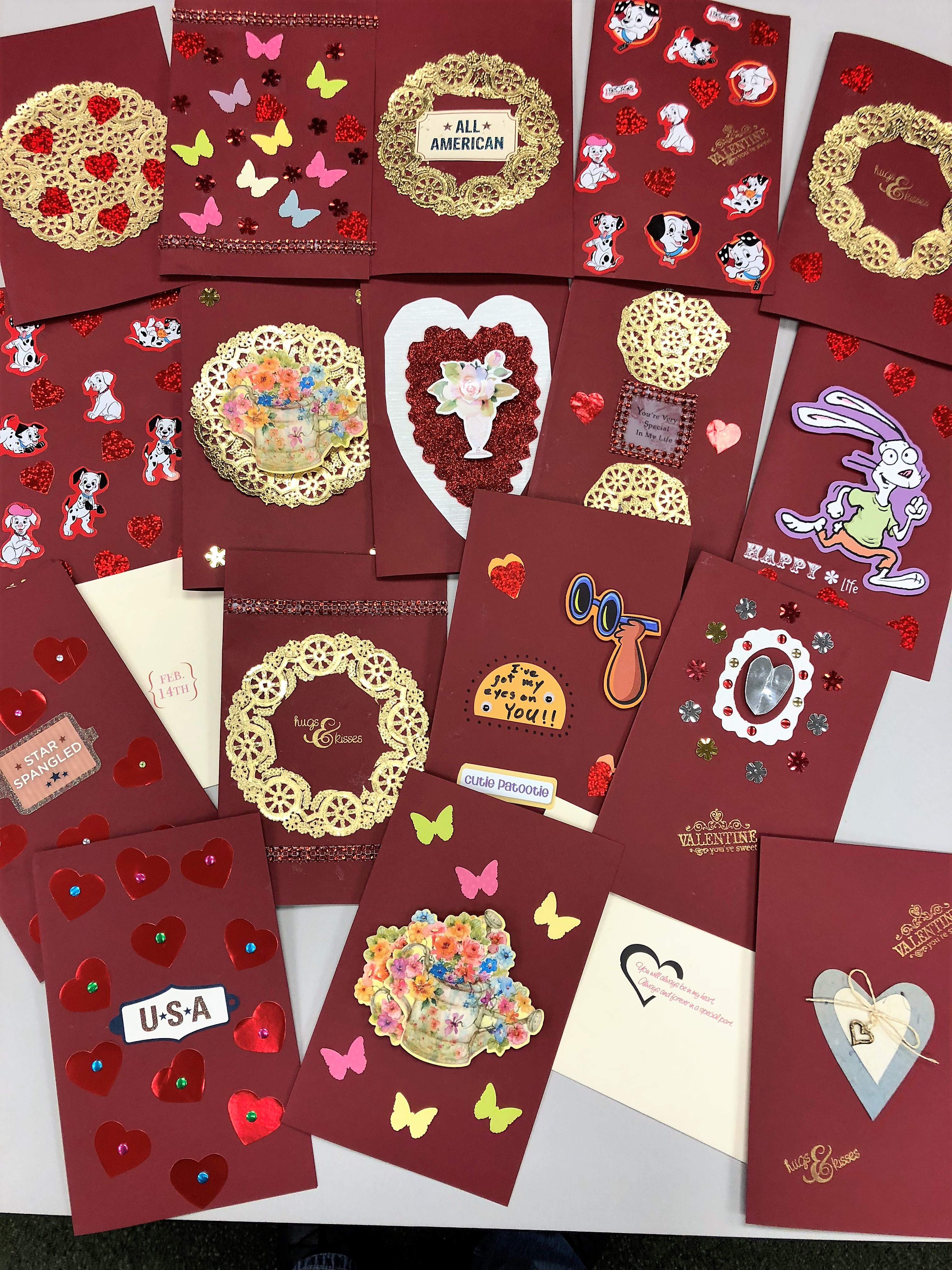 Helping Hands of Saint Johns County is warming up this January at our meeting on the 26th by collecting school clothing for the Giving Closet Project at Webster School. They need new or slightly used clothing they can distribute to the community as needed. Donna Thorland is chairing this project for us. We thank Donna for donating her time and all the great work she and Debbie, Peggy and Jenny are doing at Webster School. The Giving Closet Project opened on January 8, 2018, and is directed by Alexius Ferguson. We are looking forward to working with the school and the Children's Home Society of Florida throughout the year on this project. All clothing needs to be clean and in good repair. We will be accepting clothing all year to help keep the Giving Closet stocked.
Also at the January 26 meeting we will be making Valentine Cards for Veterans at Clyde Lassen Home. Remember those special cards we all made as children. This will be a touch of nostalgia for the vets and ourselves. We need to let those that served our country know that they are not forgotten and we appreciate all that they did for us.
At our February 23 meeting we will be making and collecting small craft kits for the children at Sulzbacher, just something small to keep them busy. Ideas are still being put together for this so what donations are needed has not been finalized.
March 17 will be an Easter Egg Hunt for Field of Dreams and Special Needs Children at Faith Community Church on County Road 210 from 10 till 2. This is always a fun time for the children. There will be a special guest, the Easter Bunny, plenty of eggs to find, crafts and snacks.
On March 30 we will be collecting donations for Our Lady of Good Counsel Church for their Troop Support Project. The OLGC Ladies Guild regularly sends about 10 boxes a month to support our deployed troops by providing them some of the conveniences and food items they can use on overseas duty. Suggested items include: jerky, yoyos Tums, sunscreen, lip balm, foot powder, snacks, crossword/word search and Sudoku books, non-sugar sweeteners, tactical flashlights, socks (black cushioned or white no show). Please bring any items you can to this meeting.
Our hands on project for March 30th will be ripping and cutting up jeans and T shirts for the Rippers group. They will be sewing small pursers and scarfs with the fabric. So bring your jeans and old T shirts to be repurposed.
With April being Autism Awareness month we are looking forward to Wednesday April 25 when we will host a Game Day for the Boundless Playground in Saint Johns County for Autistic Children. Location is the Golf Club house at South Hampton from 10 until 3. This special playground near Aberdeen Park is a place 'where all children can play together' allowing those with special needs to have some fun in safety. Come join us on April 25 for the fun. Admission will be $25 and includes lunch and door prizes and table prizes. Ten dollars of each ticket will be given for the Boundless Playground SCJ. Some of the games we will be playing are mahjong, bridge, dominoes, penny from heaven card game, and other card games along with board games. Please plan to attend and support this worthy cause. Contact jacqphil@aol.com for more information.
We have depleted our supply of unused hotel toiletries and need to collect more. Please donate what you can. Thanks.
Helping Hands of Saint Johns County is a volunteer organization started in 2006 that meets from 10 AM to noon the last Friday of the month (November will be on the 17th and none in December). There are no dues, officers or stress. Members come when they can and do what they can with what is donated. Helping Hands is fortunate to have many community partners and could not exist without their help through donations of goods and services. The group meets a Faith Community Church, 3450 CR 210 W, Saint Johns FL 32259. For more information contact via email: jacqphil@aol.com.
Please visit our Facebook page Helping Hands of St Johns County. Additional pictures and notices will be included on the site. Thanks.
https://www.facebook.com/Helping-Hands-of-St-Johns-County-1694588480839009/