Helping Hands of St. Johns County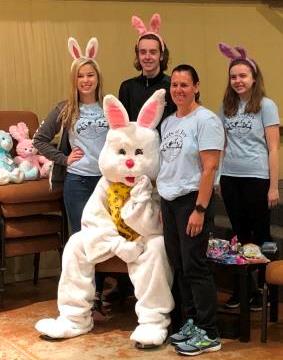 On March 13 some of our members from Helping Hands of Saint Johns County were able help out at Kids Down at the Florida Deaf and Blind School in St. Augustine. The children go through the small town with various stores and activities. The children had a wonderful time even with the cooler day. It was lots of fun for all of us.
The Easter Egg Hunt for Field of Dreams and Special Needs Children at Faith Community Church was a huge success. About 55 children had a blast hunting for eggs, doing crafts, decorating cookies and playing games. Sheilah Drewienkowski and Karen DiRaffael along with the Creekside group Acts of Joy and our members made it a real fun day. Thank you. The Easter Bunny was darling and we thank him for join us. Thanks to Faith Community Church for allowing us to use the Church, Publixs for their donations, and food donated by Papa Johns on 210 and Macs Tenders.
On March 30 we will be collecting donations for Our Lady of Good Counsel Church for their Troop Support Project. Suggested items include: jerky, yoyos Tums, sunscreen, lip balm, foot powder, snacks, crossword/word search and Sudoku books, non-sugar sweeteners, tactical flashlights, socks (black cushioned or white no show). The OLGC Ladies Guild regularly sends about 10 boxes a month to support our deployed troops by providing them some of the conveniences and food items they can use on overseas duty. We want to fill all the boxes.
Also on March 30 we will be making scarfs for the kids at the Florida School for the Deaf and Blind our of old T-shirts. This is just measuring and cutting the shirts, no sewing. The scarfs slip over the head.
On Wednesday April 25 we are hosting a Game Day to help fund Project Autism of St. Johns County. This group focuses on purchasing technology and equipment for Saint Johns schools and ESE departments. We selected this project since April is Autism Awareness month. The location is the Golf Club at South Hampton from 10 until 3. Come join us for the fun. Admission will be $25 and includes lunch and door prizes. Thirteen dollars of each ticket will be given to Project Autism. Raffles tickets for complete golf packages for 4 players at both South Hampton and St Johns Country Club will be available for an extra $5. Some of the games we will be playing are mahjong, bridge, dominoes, penny from heaven card game, and other card games along with board games. Please plan to attend and support this worthy cause. For a lunch count we ask that you preregister. Contact jacqphil@aol.com for more information.
We are helping Celebration Lutheran Church with the Military Tribute in May. Jaxon Kendricks is rebuilding the crosses for this. Thanks Jaxon. We are looking for volunteers to help put the crosses up. This will be on May 14, 15 and 16 from 6 – 8 PM at the church located at 810 Roberts Road in Saint Johns. You can sign up via JustServe.com or contact jacqphil@aol.com. Once the crosses are up the names need to be attached and flags placed in front of each cross.
There will be a Military Tribute "Field of Crosses" ceremony on May 20, 2018 at 3 PM at Celebration Lutheran Church. Please make plans to attend. It is a wonderful tribute to about 375 men and women who sacrificed their lives to service our country in Iraq and Afghanistan. If you can't make the service, please go by the church to see this moving display.
At our monthly meeting on May 25 we will be putting together Splash Packs for the homeless children in the area. We need bath suits, beach towels and flip flops for the bags.
With June the start of hurricane season we are putting together Hurricane Rescue kits. We want these available to ship wherever there is a need this season. We hope there won't be much need, but we have to prepare.
Donna Thorland who is the chairman for the Webster School Giving Closet is looking for volunteers to help fill orders for the children that need clothes. She is specifically looking for people on Tuesday or Friday from 12 to 2. You must complete a background check before you can volunteer at the school. You can apply online at St. Johns County Schools web site, just fill on the forms. It takes a few days to be cleared. If you signed up for any school in St. Johns County you are all set. We must keep our children safe and know who is on campus. Afterwards there will be a short training session. For more information contact dthorland@yahoo.com.
Helping Hands of Saint Johns County is a volunteer organization started in 2006 that meets from 10 AM to noon the last Friday of the month (November will be on the 17th and none in December). There are no dues, officers or stress. Members come when they can and do what they can with what is donated. Helping Hands is fortunate to have many community partners and could not exist without their help through donations of goods and services. The group meets a Faith Community Church, 3450 CR 210 W, Saint Johns FL 32259. For more information contact via email: jacqphil@aol.com.
Please visit our Facebook page Helping Hands of St Johns County. Additional pictures and notices will be included on the site. Thanks.
https://www.facebook.com/Helping-Hands-of-St-Johns-County-1694588480839009/