Helping Hands of St. Johns County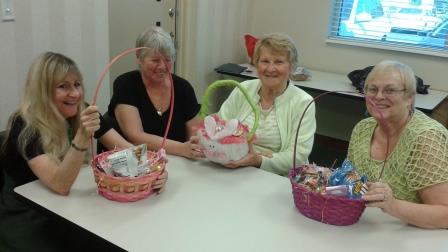 Helping Hands held their Springtime Easter Egg Hunt and Party on March 2 at Faith Community Church. This yearly event was open to special needs children and families and has been a tradition for the group for several years. Many of these children participate at Field of Dreams ball field and we have several members who volunteer there. We had over 40 children and parents attend and the day was a huge success. Event was complete with an Easter Egg Hunt, games,prizes, refreshments and a visit from the Easter Bunny. Thank you to all who heled with this event and young people from Creekside High School. Our gratitude to Papa Johns and Macs Tenders and First Florida for the refreshments.

Our resale clothing drive for the benefit of Olivia Love has been a success and we were able to give her family $388. We had lovely clothes and ran the sale in January and February at meeting. Thanks to all who tried to help this gravely injured 17yr old Nease student, who fell off a golf cart on January 2nd. She is in Atlanta at Shepherds rehabilitation center and making progress. The clothes that were not sold were donated to Alpha Omega House, St Francis House, Spectrum thrift store, Aylas Acres, and Webster School. Get wellcards were made and sent to Atlanta to cheer up Olivia.

Our April meeting will be on April 26th at Faith Community Church at 10 AM and we will be putting together Mothers Day purses for Betty Griffin Shelter for abused women. We typically do this once a year for them, and fill a purse with new, unused cosmetics, jewelry, wallets, scarfs and toiletries. If you have any of donated items please contact jacqphil@aol.com for drop off information.

We are once again planning Our Fallen Heroes Military Tribute to honor our soldiers from Florida that died in Iraq and Afghanistan as well as every soldier that died.This year it will be on May 26th at Faith Community Church at 3PM. Troop 718/ scoutmaster Nevin Cox will be placing the 360 white crosses that represent Florida soldiers at Faith Community. A short ceremony will be held on the 26th with the reading of each soldiers name, followed by musical tributes and program. More details will follow.
Helping Hands is a volunteer group that meets the last Friday of the month at Faith Community to do a small project for the community. There are no dues, officers or stress. The group relies solely on donations of goods and services. We have many community partners and we appreciate them all. Any one is welcome to join and members come when they can and do what they can with what is donated. check out our facebook page
https://www.facebook.com/Helping-Hands-of-St-Johns-County-1694588480839009/