Helping Hands of St. Johns County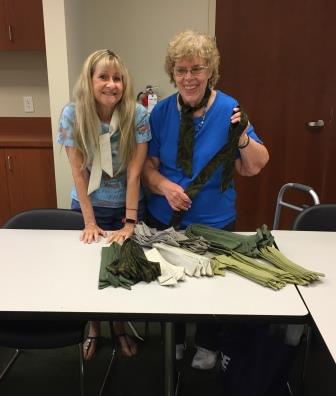 Helping Hands of St. Johns County will be meeting on Friday, September 28th at Faith Community Church, 3450 CR210W at 10AM. The group will be working on favors and table decorations for its Bingo for Breast Cancer event on October 21st. All supplies will be provided, just need hands to help. This major fund raising event will be held at Shearwater Kayak Club, 100 Kayak Way, St. Augustine, 32092 on Sunday, October 21st from 2-5. All proceeds will be donated in honor of Breast Cancer month to the Donna Foundation.
Helping Hands is working with Hope Floats to raise money and awareness for those suffering from cancer. This fun afternoon will have bingo, golf package raffles (St. Johns and South Hampton), door prizes and free refreshments for those attending. Cost is $20 for 20 games, with extra cards available for sale at $1 each. All prizes will be awarded in gift cards and donated items. This event is being sponsored by Danielle Wright of Coldwell Banker Realty, Shearwater Community, Hope Floats, and Helping Hands. Many thanks to Bruccis Pizza, Bite a Bagel, First Florida Credit Union, and Publix for refreshments, as well as all those that donated door prizes. Checks need to be sent to Jackie Valyou/ Helping Hands, 1180 Stonehedge Trail Lane, St. Augustine, Fl. 32092. Please make $20 check payable to Donna Foundation, *memo line Hope Floats. Come join us for a fun day. For more info: jacqphil@aol.com

In August, Helping Hands made baby and swaddling blankets for St. Gerard House and Divine Mercy homes for unwed mothers.

Our October meeting will be our special yearly Christmas tree decoration day for Community Peds Hospice. All trees have been donated, we just need decorations for them. We have been donating 2-3ft trees for the annual party for families for 8 years. The families then get to take their special tree home. If you wish to make one home and bring it, that would be fine. We meet the last Friday of the month, which would be October 26th at 10AM at Faith Community. Our trees have been decorated in Barbies, balls, garland, shells, golf stuff, nuts and bolts and yu name it and the creativity is amazing. Come join us, we will have a contest for most creative, prettiest, all over beauty.

We will also have Stockings for a Soldiers available at both meetings for filling. These will go to our brave soldiers in Iraq and Afghanistan. We are on a short time frame as they have to be mailed by Novemebr 20. Helping Hands is partnering with Our Lady of Good Counsel Church , who will be paying for the postage to mail them. Snack or health and beauty aids are needed to fill them, but cannot be mixed. Contact jacqphil@aol.com, if your neighborhood or girl scout troops would like to help fill them. We plan on sending 300.

Heloing Hands is a volunteer group that meets the last Friday of the month at Faith Community Church at 10AM to do small projects for a different charity each month. There are no dues, officers or stress. You come when you can, we do what we can with what is donated. We collect no money and rely solely on donations of goods and services. We are beginning our 12th year. All are welcome.
---
Helping Hands of Saint Johns County is a volunteer organization started in 2006 that meets from 10 AM to noon the last Friday of the month (November will be on the 17th and none in December). There are no dues, officers or stress. Members come when they can and do what they can with what is donated. Helping Hands is fortunate to have many community partners and could not exist without their help through donations of goods and services. The group meets a Faith Community Church, 3450 CR 210 W, Saint Johns FL 32259. For more information contact via email: jacqphil@aol.com.
Please visit our Facebook page Helping Hands of St Johns County. Additional pictures and notices will be included on the site. Thanks.
https://www.facebook.com/Helping-Hands-of-St-Johns-County-1694588480839009/