Helping Hands of St. Johns County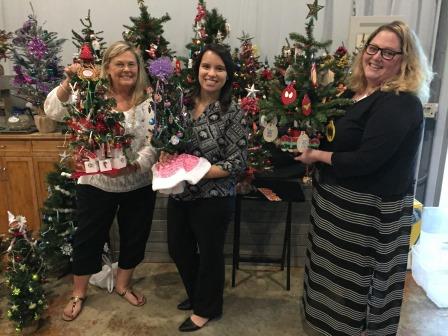 Helping Hands of St. Johns County has had a very busy last few months and would like to thank the community for the support for all of their projects in 2017. Since September the group has aided in the hurricanes in both the Carolina's and Panhandle with over 40 boxes of supplies, bedding,clothing and essential health products for the devasted people there. Extra clothes were given to St. Francis House and the Homeless Coalition in St. Augustine. All told close to 75 boxes were given.
Bingo for Breast Cancer event on October 21, for Donna Foundation raised $2,553 in honor of breast cancer month. Thank you to all our sponsors, participants specially, Publix, First Florida, Danielle Wright/Coldwell Banker Realty, Shearwater Community where event was held, Brucci's Pizza, Bite a Bagel and St. Johns and South Hampton Golf Clubs.
In November, the group assembled 30 Thanksgiving meals for the children at the Florida School for Deaf and Blind in need and the Annual Thanksgiving Dinner in St. Augustine for the homeless. Members supplied all the fixings for a complete dinner. Members of the Church of Jesus Christ of Latter Day Saints, not only donated food and homemade pies but helped out Thanksgiving Day in St. Augustine.
Stockings for Soldiers were mailed to our servicemen through the goodness of our partner Our Lady of Good Counsel and over 300 were filled with health and beauty aids or snacks. Several girl scout troops and Homeschoolers by the Sea as well as members of Helping Hands and the community at St., Johns Golf through Pam Watt of Remax Realty helped fill them. The children did a wonderful job and each was filled with goodies and card expressing our thanks.,
Helping Hands will be setting up and working the Christmas store at the Florida School for Deaf and Blind in December and will be attending the Holiday Show on Dec 19.
Fallen heroes Military Tribute on November 11, with its over 350 crosses was a sacred reminder to those that lost their lives fighting to protect our country. Many thanks to Faith Community Church who hosted the memorial walk, boy scout troops that set them up and Scout leader Nevin who coordinated the tribute. Many attended and were able to pay homage to our heroes.
Birthday cards that were handmade by members were delivered to Coral Landing, Bayview, and St. Augustine rehab for each resident to have a card on their birthday given to them. Over 400 beautiful cards were made.
Trees for community Peds Hospice were decorated at Oct meeting and picture represents some of the darling trees given to the families. 33 were filled with candy, Little mermaid, small toys, barbies, origami cranes. and gorgeous decorations. They were awe inspiring.
We will meet again in January on Friday,the 25th at Faith Community Church a 3450 County Road 210 at 10 AM. Blessings to all and many, many thanks for a great year. For more information contact jacqphil@aol.com.
* pictured from left member of Helping Hands Nancy Watson and other ladies are representatives of Hospice.
---
Helping Hands of Saint Johns County is a volunteer organization started in 2006 that meets from 10 AM to noon the last Friday of the month (November will be on the 17th and none in December). There are no dues, officers or stress. Members come when they can and do what they can with what is donated. Helping Hands is fortunate to have many community partners and could not exist without their help through donations of goods and services. The group meets a Faith Community Church, 3450 CR 210 W, Saint Johns FL 32259. For more information contact via email: jacqphil@aol.com.
Please visit our Facebook page Helping Hands of St Johns County. Additional pictures and notices will be included on the site. Thanks.
https://www.facebook.com/Helping-Hands-of-St-Johns-County-1694588480839009/