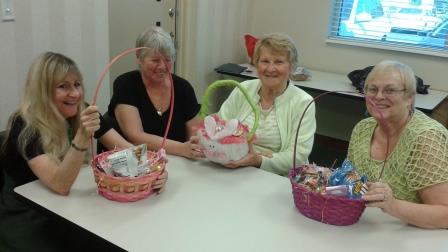 Helping Hands will be sponsoring a Springtime Easter Egg Hunt and Party on March 2 at Faith Community Church. This yearly event is open to special needs children and families and has been a tradition for the group for several years. Many of these children participate at Field of Dreams ball field and we have several members who volunteer there. We will have an Easter Egg Hunt, games,prizes, refreshments and a visit from the Easter Bunny. For reservations and more information email liah623@aol.com.
Get ready for a Pets on Parade Day on March 16th at Faith Community Church, 3450 CR210W from 10-12. Helping Hands in conjunction with Canine Companions will have a fun day with any funds raised to go to Canine Companions for Independence. Several people from the area have received at no charge a service dog to aid them in every day life. Meet with some of the families that have received them. We will have a puppy kissing booth, service dogs from the area, pet adoptions, vendors representing pets only, food and pet supplies collection and at 12PM a pet parade. So get your dog or cat or animal (no alligators) dressed up and come on over. Prizes will be awarded. Refreshments available. Free admission, but we ask you bring pet food, old, clean towels or blankets to be donated to Humane Society. Pictured above is Adele, the first dog Helping hands has sponsored.

Helping Hands of St. Johns County will be meeting on March 29th at 10AM at Faith Community Church 3450 CR210W, next to Cimmarone. Our project this month will be Easter Baskets for children. These will be given out at local food banks. If anyone would care to donate baskets, grass, sealed stuffed animals, snack packs of cookies, goldfish etc. or new small toys to go in them, contact jacqphil@aol.com. We will purchase a small amount of candy to go in them, but we are trying to avoid putting in large amounts of candy for health reasons.

Our resale clothing drive for the benefit of Olivia Love has been a success and so far we were able to give her family $300. We had lovely clothes donated and ran the sale in January and February (this total does not include February sales)at our meeting. Thanks to all who tried to help this gravely injured 17yr old Nease student, who fell off a golf cart on January 2nd. She is in Atlanta at Shepherds rehabilitation center and making progress. The clothes that were not sold were donated to Alpha Omega House and Webster School. We had originally stated we would be collecting clothes for the school at this meeting in February, but have received many childrens clothes which went to them. We also in February made get well cards to be sent to Olivia in Atlanta. Thank you, we know the family at Bite A Bagel appreciate it.

Our April meeting will be on April 26th at Faith Community Church at 10 AM and we will be putting together Mothers Day purses for Betty Griffin Shelter for abused women. We typically do this once a year for them, and fill a purse with new, unused cosmetics, jewelry, wallets, scarfs and toiletries. If you have any of donated items please contact jacqphil@aol.com for drop off information. We also plan a Bingo for Epilepsy at Hurricanes for this month. More information will follow.
Helping Hands is a volunteer group that meets the last Friday of the month at Faith Community to do a small project for the community. There are no dues, officers or stress. The group relies solely on donations of goods and services. We have many community partners and we appreciate them all. Any one is welcome to join and members come when they can and do what they can with what is donated. check out our facebook page